Cer Blend poker chips are a proprietary blended ceramic chip - center formatted for full color printing. There is a 500 Piece Minimum 0rder for cer blend poker chips. Extremely collectible - these 10 gram cer blend poker chips come in 13 colored edges and the centers are printed in process color on a special digital press to enhance the vibrancy of the colors. Consecutive Numbering is available on these chips. THEY ARE NOT MADE WITH AN INLAY OR LABEL. IMPRINT IS DIRECT PRINT ON POKER CHIP CENTER.
The centers of our Custom Cer blend Poker Chips chips start out white - awaiting full color client customization.
Edge stripes come in a stock 6 stripe layout with white stripes - and are available in 13 standard colors.
Black - purple - blue - light blue - grey - brown - green - lime green - pink - orange - yellow - red - ivory
These custom poker chips can be customized with a true full color center imprint. They are an extremely high quality printed chip and are often used for challenge coins or as collectibles. The colors are vibrant and closely replicate the exacting full color art of the designer's file. A minimum order of 500 chips is required and production time is generally about 3 weeks. The printed centers are truly striking. The chip is flat on the surface - there is no recessed area because there is no inlay or label. The edges and stripes are standard and can not be customized.
It is important to note that although only the center of these chips can be customized, they offer some personalization options that are not available on other chips. One custom option is consecutive numbering or variable data printing services. Center printed ceramic blend chips can be consecutively numbered or imprinted with variable data starting with a minimum order of 1000 chips.
Samples of chips we have printed with this process are shown below.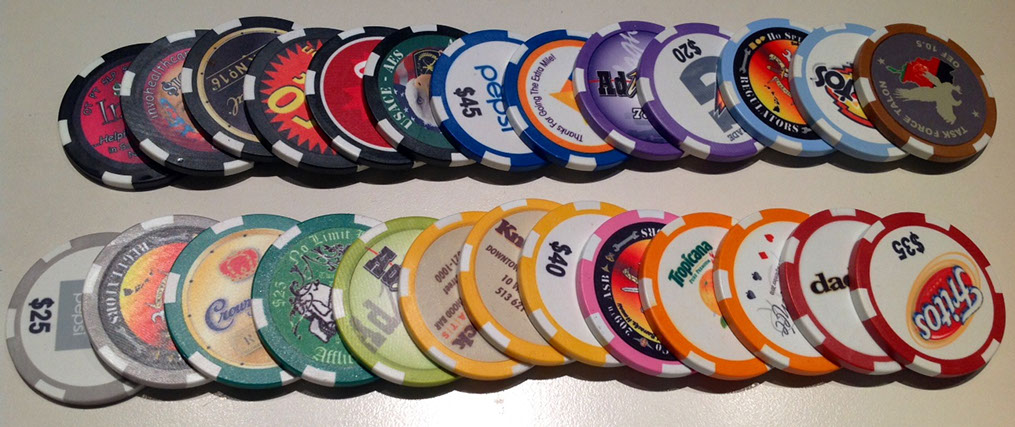 Close up image of cer blend chips by AD MAGIC | The Poker Consultants